About Buddhist Images
Buddhistimages: Who, what, why
About Buddhist Images. Buddhistimages is run by Dhiramati (David Miller), a member of the Triratna Buddhist Order. He has been practising Buddhism, meditation and yoga meditation since 1987 and, since 1999, has been travelling regularly to Nepal buying Buddhist statues and Buddhist thangkas and a large variety of Buddhist Ritual items. He's developed very good relationships with the local craftspeople and their families. Most of the businesses are fairly small-scale family operations that have been handed down generation to generation. He's very happy to be supporting this local artisan culture through this work.
Part of the profits from Buddhist Images go toward the Green Tara Trust, a charity working with women in Nepal. He also works with Buddhafield, a buddhist community running camping retreats in the West country with its own annual festival. If you would like to help with the work of Buddhafield you can make a donation.
He teaches yoga and meditation, co-leads rituals and do storytelling on a number of events including Dhanakosa, a retreat centre in Scotland.
He's personally very interested in Buddhist iconography, symbolism, archetypes and imagery and draws much inspiration from them and in providing others with that opportunity. Some of you may be interested in some of the pujas (devotional verses) that he's written.
About the making of our thangka paintings and statues
Our thangka paintings take 2-3 months to finish as they are hand-painted.
These photos show the transformation of the raw copper, from being poured into the clay molds, and then worked on until they are finally painted carefully by hand. And then there are the wooden statues…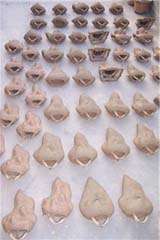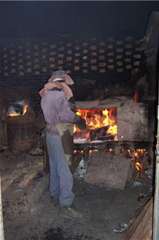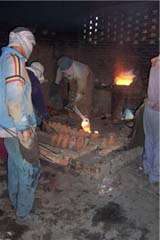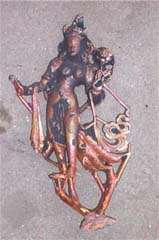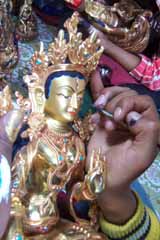 Painting the statue close-up
The wooden carving begins
The meticulous work begins…